ABOUT US
Jiangsu Gaode Beier New Energy Automobile Air Conditioner Co., Ltd. was founded on February 7, 2017 with a registered capital of 10 million yuan, mainly engaged in the design, production and sales of new energy automobile air conditioner compressors.
The company has precision processing equipment, assembly and testing equipment required for the production of electric scroll compressor. The electric scroll compressor is suitable for the air conditioning system of new energy vehicles. It features power saving, high reliability, smooth operation, low vibration, low noise, etc.
The company adheres to the quality policy of "scientific and technological innovation, excellence, sustainable development, reputation first", the enterprise spirit of "loyalty, unity, pragmatism, innovation", the business purpose of "quality assurance, customer first", and constantly improves customer satisfaction with scientific management, high-quality products, and perfect services!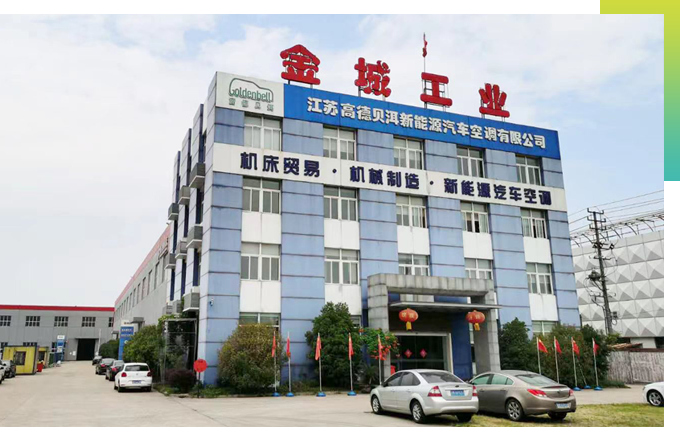 The DC72V25cc electric vehicle scroll compressor integrated with controller and compressor has been developed and tested by Hefei General Product Testing Institute.
1. More than 10 million yuan has been invested; 2. Developed DC48V, DC60V, DC320V25cc electric vehicle scroll compressor products; 3. Obtain the national industrial product production license; 4. It has supplied small quantities of supporting vehicles with Yutong Heavy Industry sweeping vehicles and Yangzhou Wuhuanlong police field vehicles.
According to customer demand, the product series was improved, 144V25cc and 540V25cc, 32cc electric scroll compressor products were developed, and relevant tests were carried out for the corresponding working conditions of the refrigeration system for new energy battery pack cooling.
Assist new customers (Tangshan Yate Automobile, Xuzhou Pinshang Air Conditioner) in product matching. At the same time, research and develop 24V integrated and split parking air conditioning compressor. At present, the company's product series, product performance and reliability can meet customer needs.
Production license
Quality Management System Certificate
2018 China Auto Air Conditioning Industry Annual Brand Award
Member of China Refrigeration and Air Conditioning Industry Association